hiro morozumi .com


home bio recordings calendar pictures

composer guest book contact links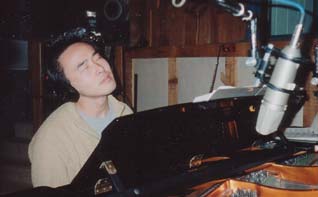 LISTEN TO HIRO PLAY

Wanna hear more?
Go to my recordings section.


NEWS:
 
 
5-14-2006

Hiro made it to the Final at the Montreux Piano Competition and..
WON THE 3RD PRIZE!!
 He has received 2,000 Swiss Francs and will be invited to play
in the next IAJE Conference in New York City, January 2007.
Read more here. Congratulations Hiro!

 
5-14-2006

Hiro's going to Montreux AGAIN!
Yep, Hiro's been selected to participate in the
2006 Montreux Jazz Festival Bosendorfer Solo Piano Competition!
The 12 semi-finalists will come from 11 different countries.
The number of applicants this year was 30% bigger than last year.
Go Hiro!


10-17-2005

Hiro's been selected to proceed to the final competition in the
"Mightiest Players Contest" at the 2005 Musical Instruments Fair to be held on 11/5!
This contest is hosted by the four major Japanese music magazines,
and the judges will include major record company executives. Wow!


9-16-2005

Recording of my new CD, "Back with the Cats" has now been completed!
The release is planned for November. I'll keep you updated!


8-11-2005

Hiro was a semi-finalist in the
2005 Montreux Jazz Festival Solo Piano Competition.
The judge panel included George Duke and Joe Sample.


3-3-2005

Hiro wins the Arranging Contest sponsored by Keyboard Magazine Japan!
My work will be included in the appendix CD of the May issue.
Stop by your nearest bookstore with a CD player in your hand (lol).

Last Updated: 08/11/2006